Lace jumpsuit styles for wedding is one of the ways you can incorporate your lace or Asoebi fabric as a wedding guest. The lace fabric is one of the fabrics popularly worn by guests during a wedding ceremony. The fabric is known for its high quality and glamorous appearance. There are many ways the lace fabric can be styled. In this collection, we will be checking out some best lace jumpsuit styles for wedding in 2023.
Read also: Best Short White Lace Gown Styles in 2022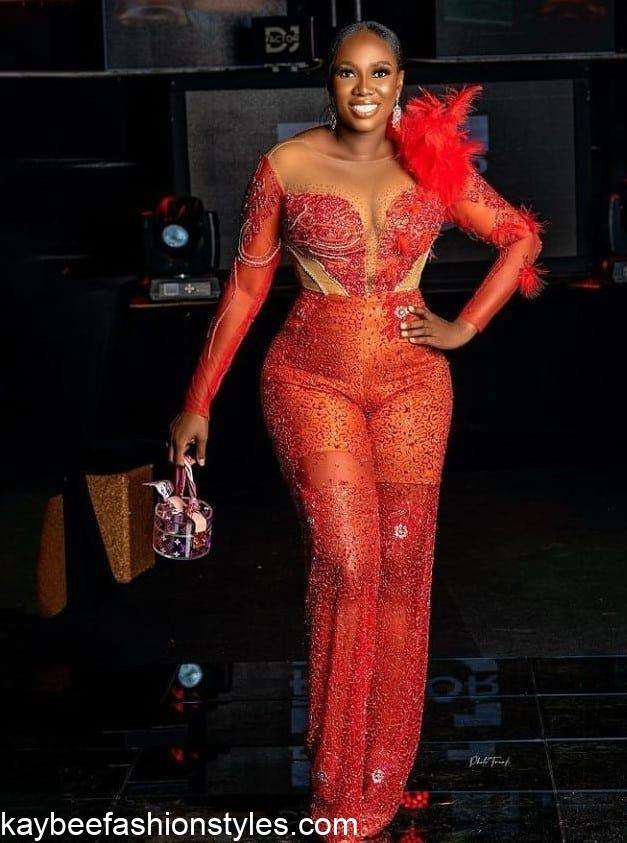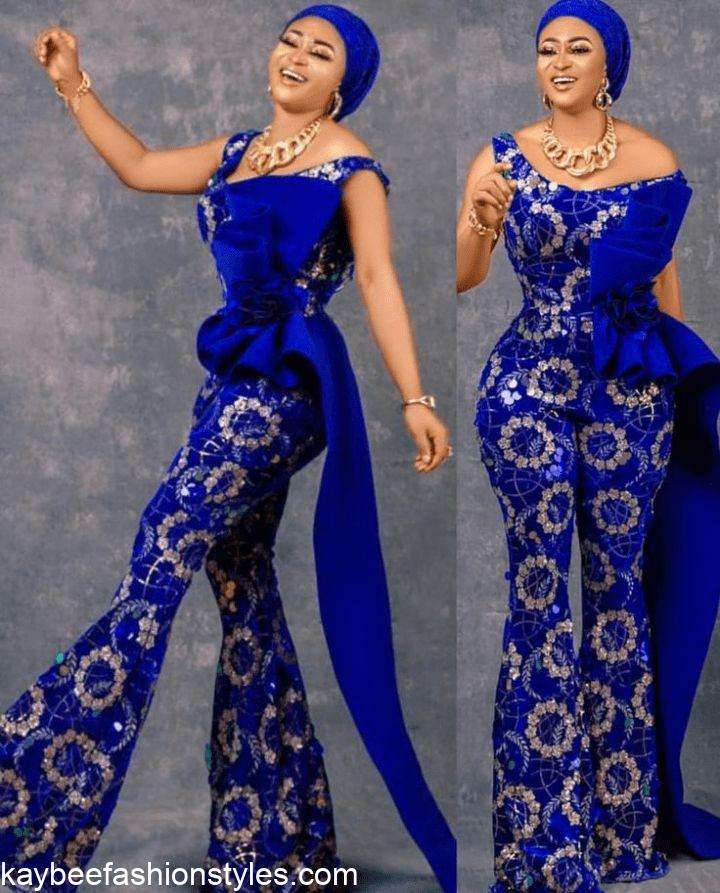 One of the ways the lace fabric can be styled is as a jumpsuit. The jumpsuit can be referred to as a one-piece outfit which is achieved by joining together a trouser and a top.
Lace jumpsuit styles for wedding in 2022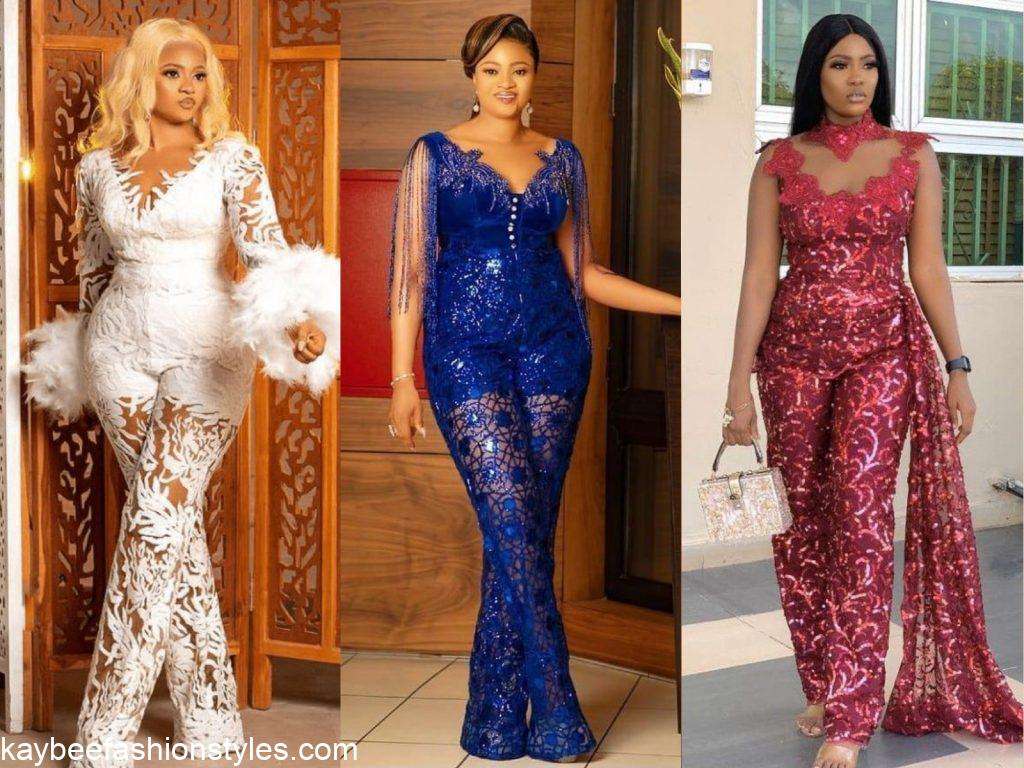 The jumpsuit is one of the latest fashions and styles these days and it has been incorporated when it comes to rocking the lace fabric as an Asoebi. Not only can the lace fabric be worn by wedding guests alone, but it can also be worn for formal occasions such as evening wear, a dinner outfit, and also a date night outfit. Brides can also rock the lace jumpsuit as after-party wear on their wedding day.
Read also: 3 Yards Asoebi Styles for Wedding Guests in 2022
1. Nigerian lace jumpsuit styles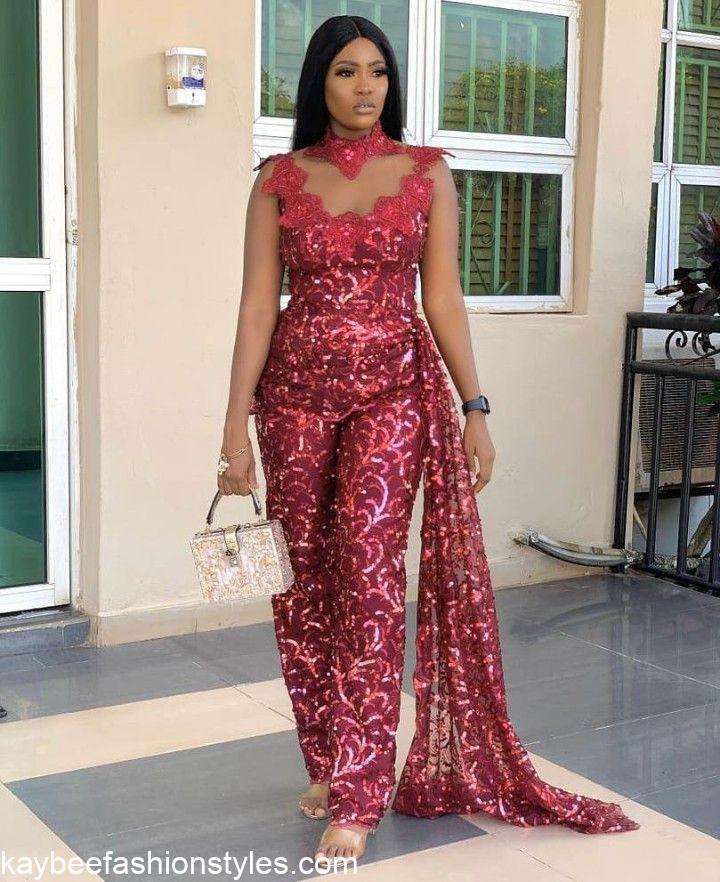 In Nigeria, the lace jumpsuit can be styled in different ways and often involves the use of exaggerated sleeve design to give the lace jumpsuit a pronounced appearance. When rocking the lace jumpsuit styles for weddings in Nigeria, stones can be added to the upper part of the jumpsuit for a classy look. To give the lace fabric a sophisticated appearance, it can also be mixed with another fabric.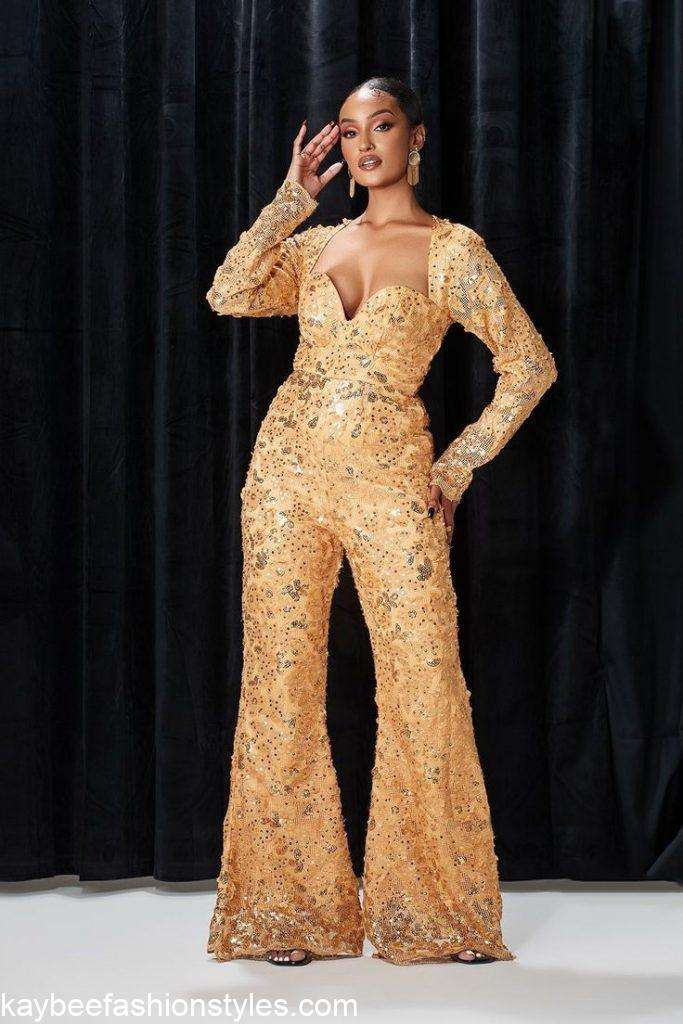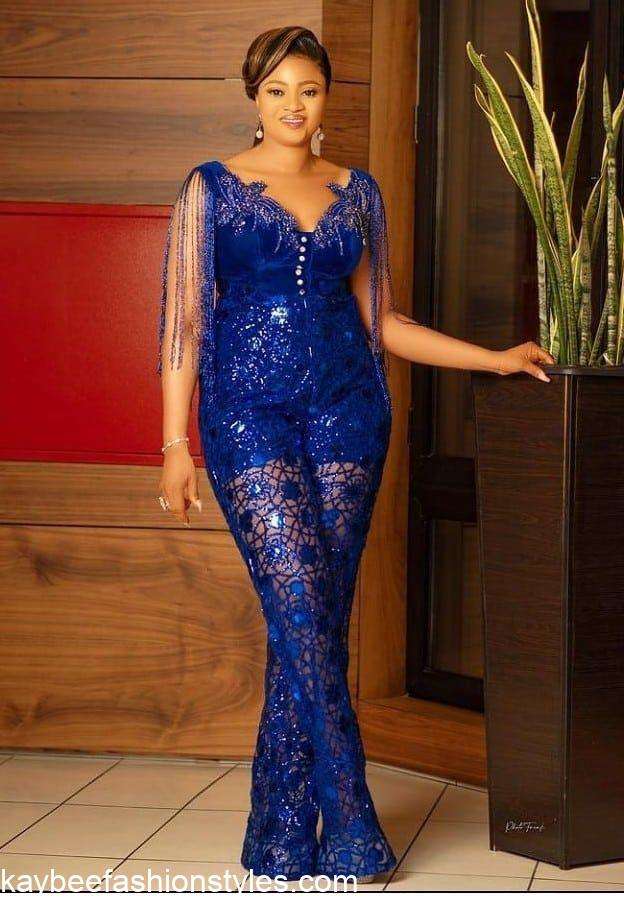 2. Aso Ebi Lace jumpsuit styles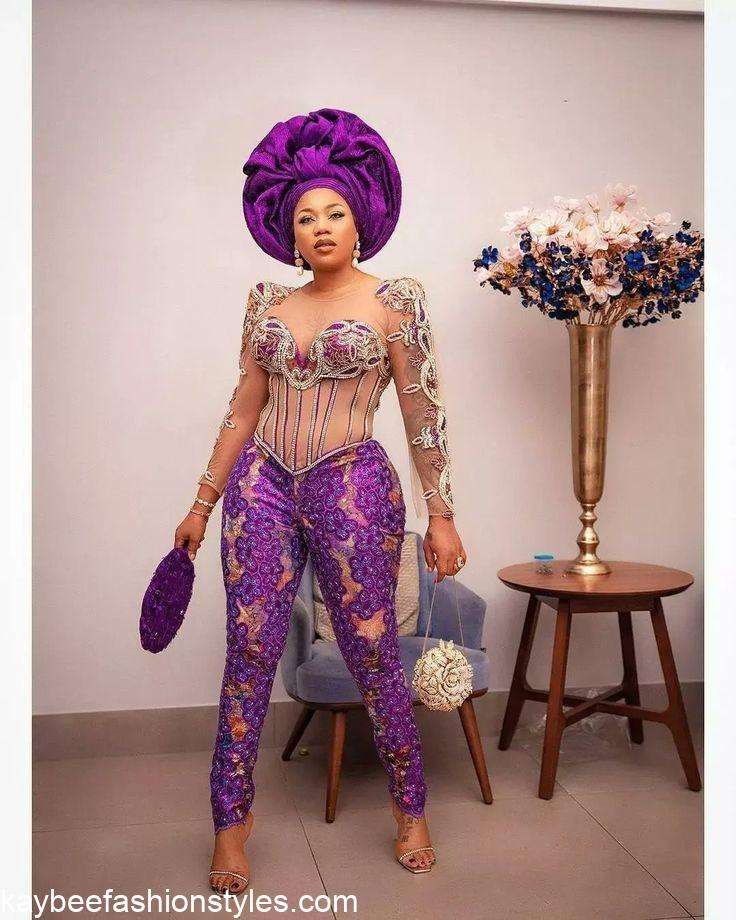 One of the ways the Asoebi can be styled is to incorporate it into a lace jumpsuit. The lace jumpsuit looks more glamorous when it is paired with stylish accessories like a matching shoe and necklace. You can also add a drape to the side of your Asoebi lace jumpsuit or design the jumpsuit with a corset style on the upper part. Below are some Asoebi lace jumpsuit styles for ladies:
Read also: Latest George Styles for Traditional Marriage in 2023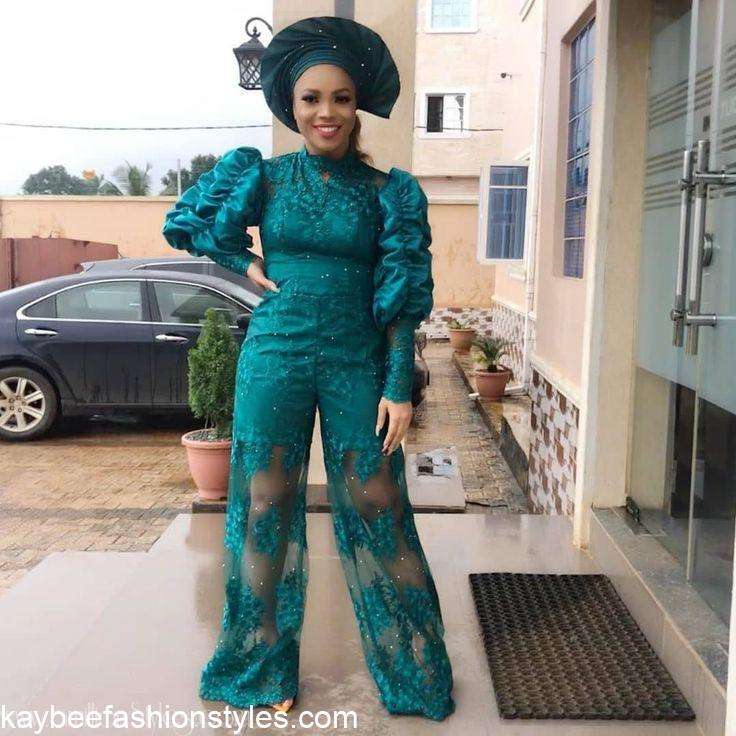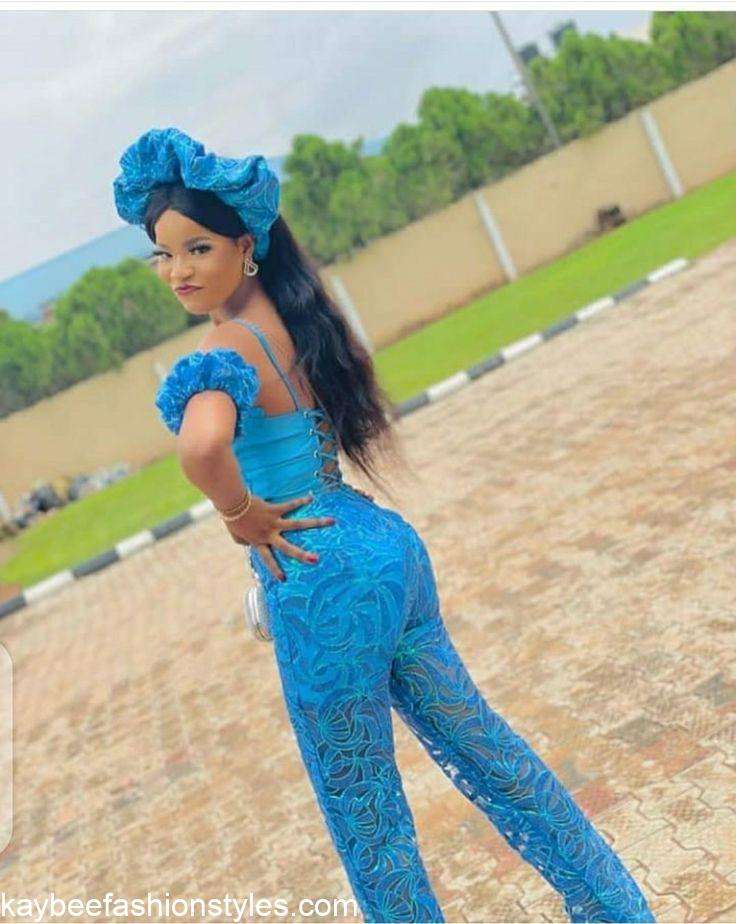 3. Lace jumpsuits for weddings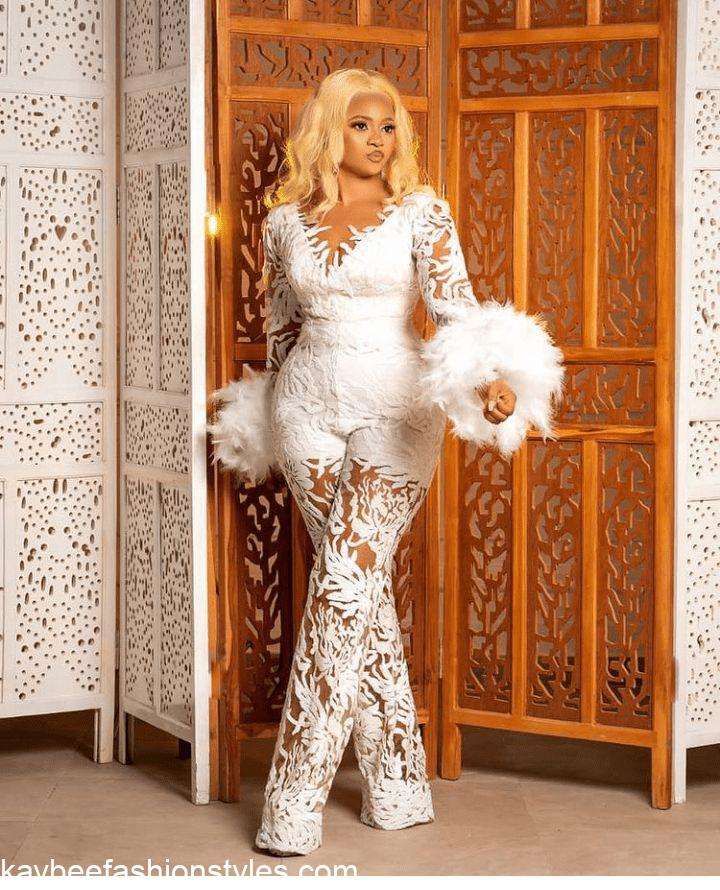 The lace jumpsuits for weddings are special in the sense that they give you a spotlight look at the wedding party you intend to attend. This is because this choice of style is not often rocked by wedding guests but by fashionable wedding guests. To make an entrance at the wedding party, rock a straight-leg jumpsuit with an exaggerated sleeve and a nicely tied headwrap. Below are some lace jumpsuits for weddings:
Read also: Best Nigerian lace blouse styles for wrapper in 2023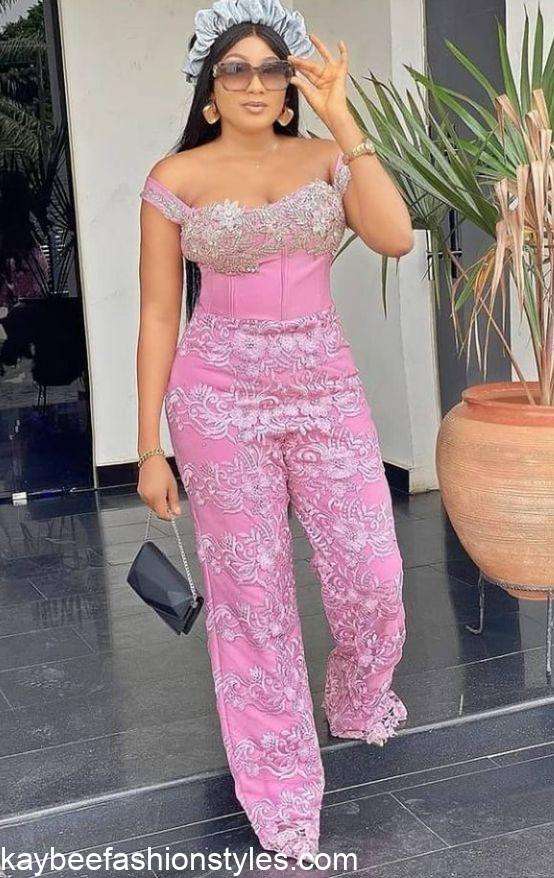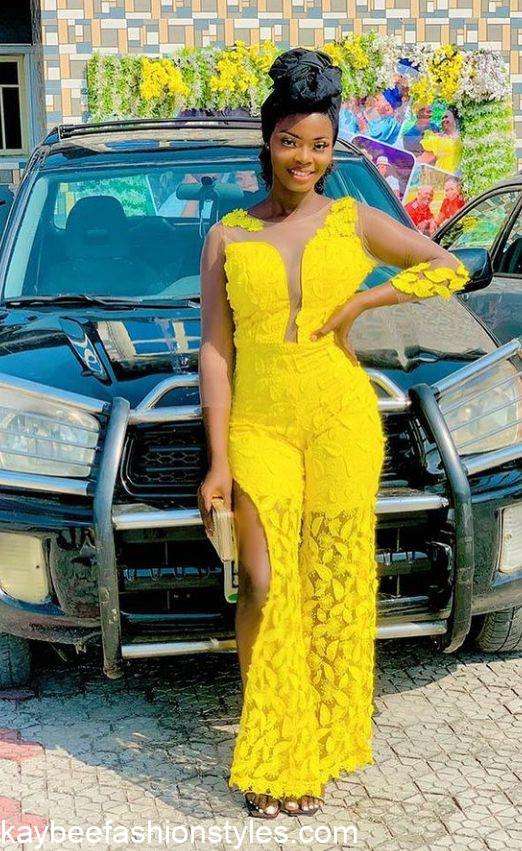 4. Jumpsuit styles for weddings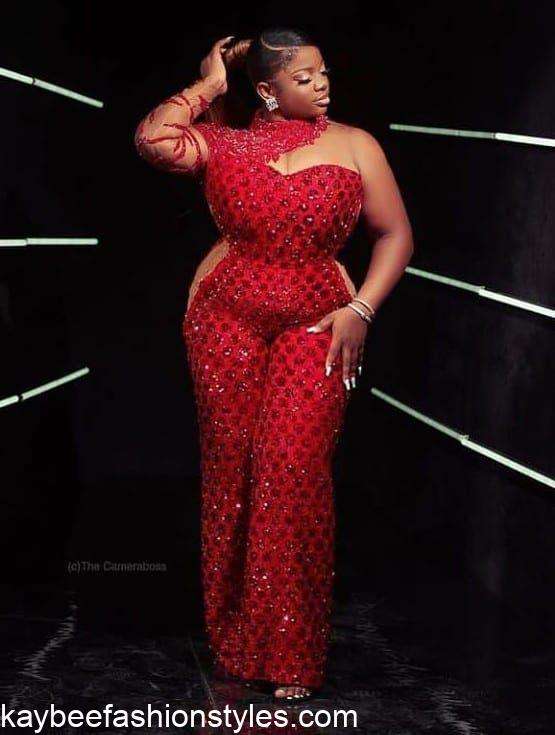 The jumpsuit styles for weddings can be made using different fabrics including Ankara fabric, lace fabric, sequin, satin, and other popular fabrics. The jumpsuit styles for weddings can be styled with flared pants or fitted pants depending on your choice. Below are some jumpsuit styles for weddings: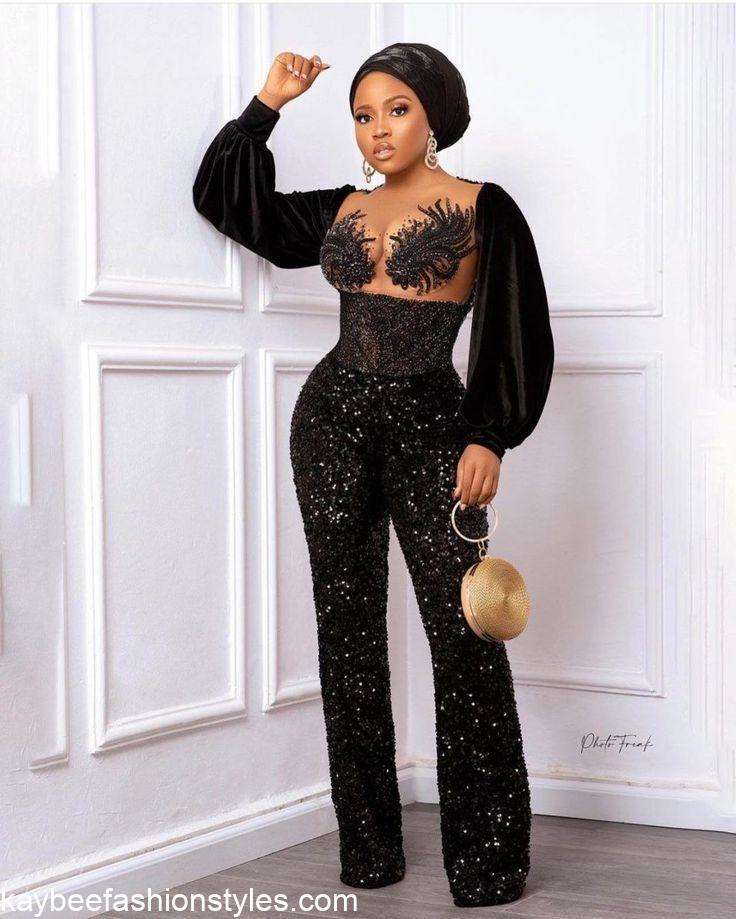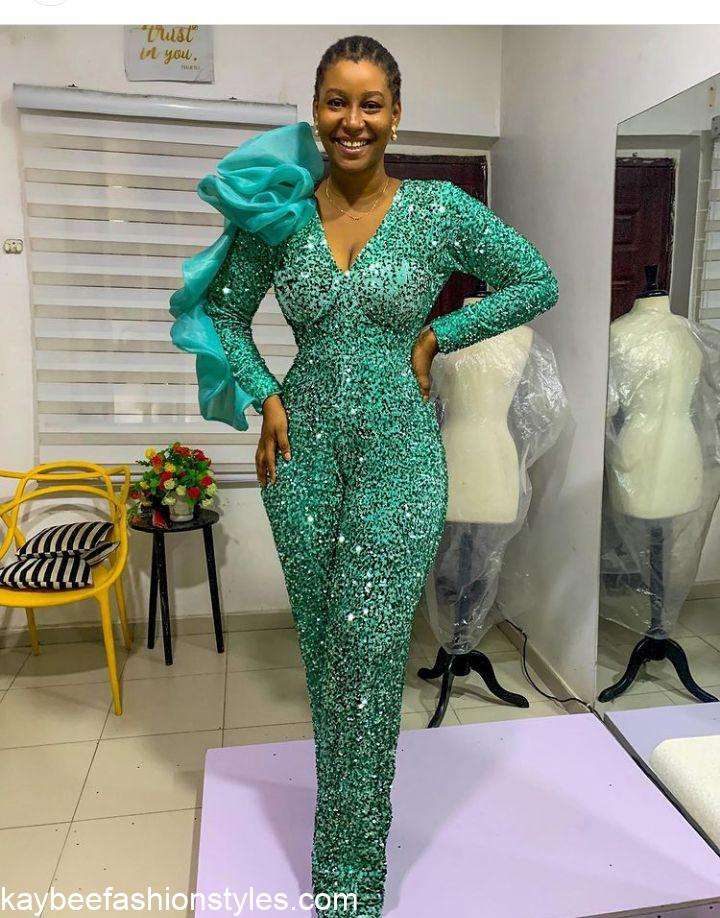 5. Sequence jumpsuit style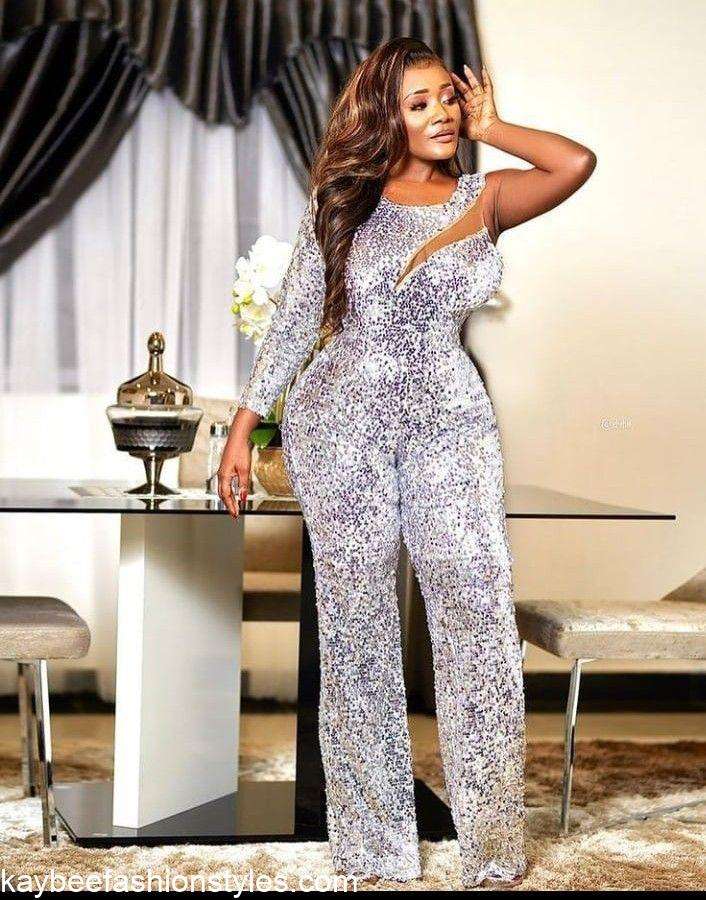 The sequin or sequence jumpsuit is another popular jumpsuit that is often worn for wedding party celebrations or evening wear. The sequence jumpsuit styles are similar to the lace jumpsuit styles for weddings. Any type of sleeve design can also be paired with the sequence jumpsuit styles as long as it gives it a stylish appearance. Check out some sequence jumpsuit styles below:
Read also: 30 Best Ankara Palazzo Jumpsuit Styles For Ladies in 2023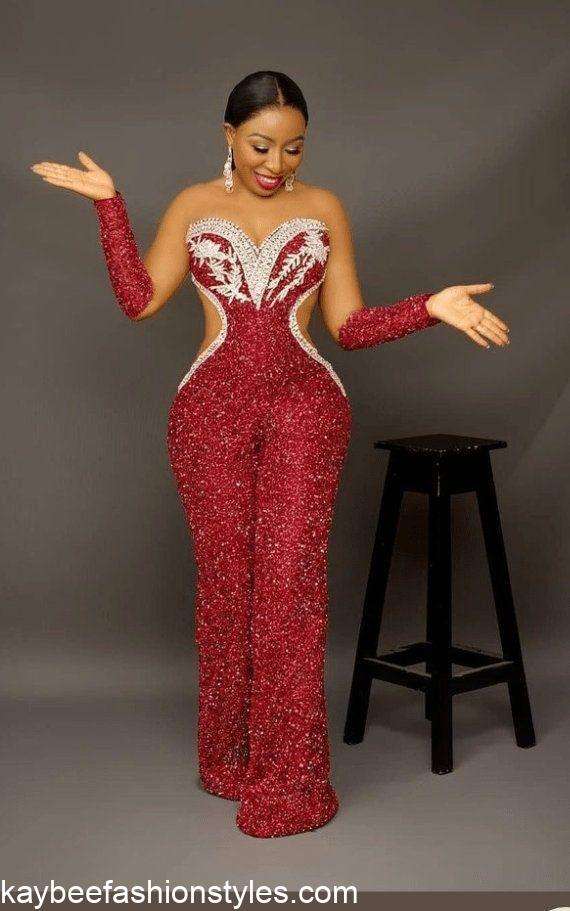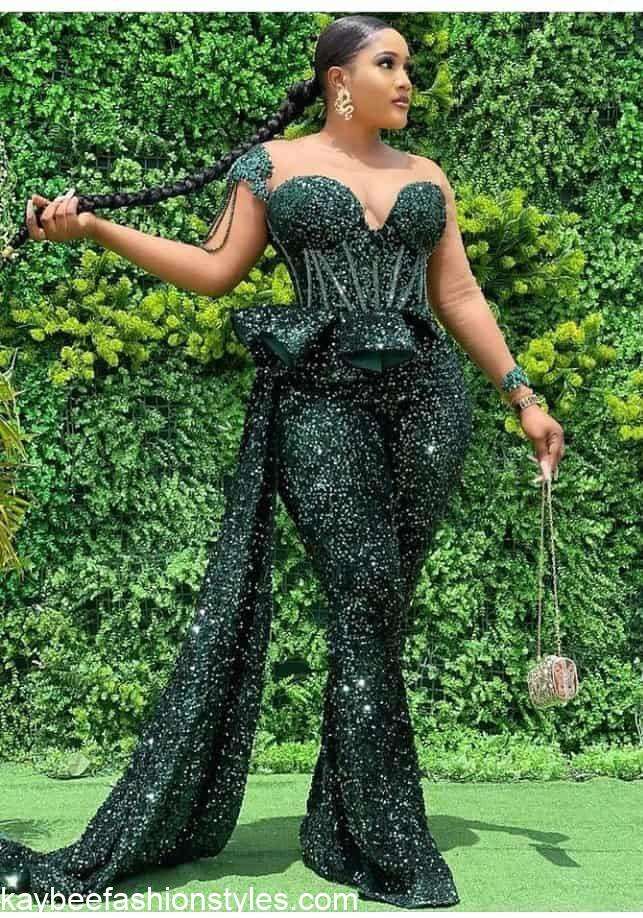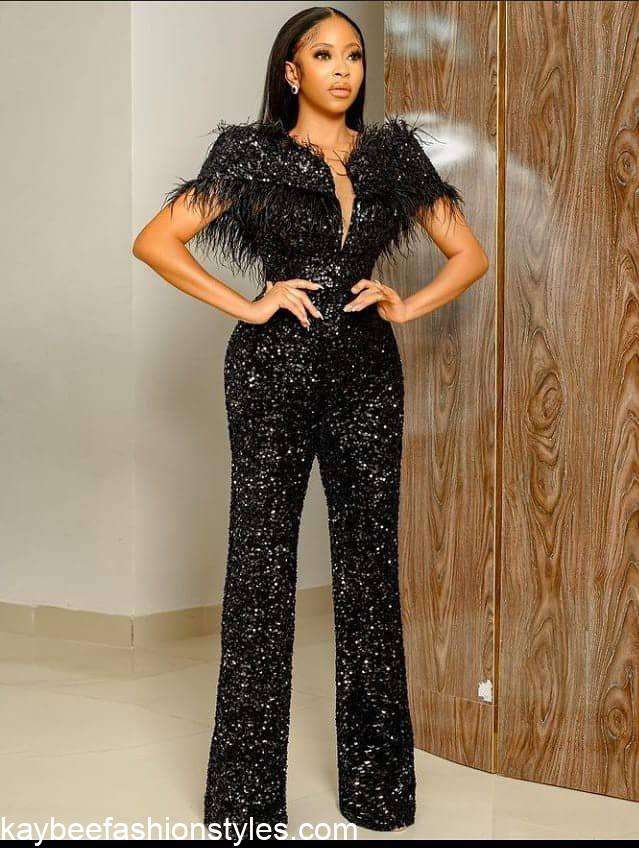 In conclusion
There are numerous fashion styles to explore in the fashion world these days and you shouldn't stick to a particular outfit style. Looking good and being fashionable helps to add some spice to your life. This article focuses on some of the best lace jumpsuit styles for wedding in 2022 and 2023.
Photo credit: Pinterest
Click here to follow us on Instagram