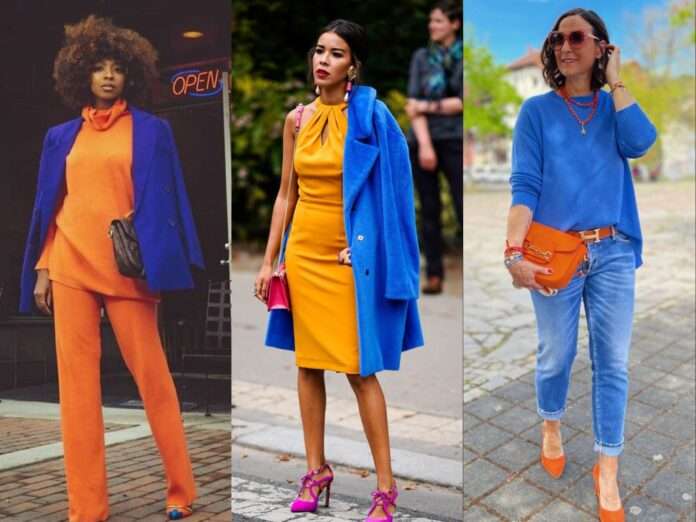 Orange and blue outfit combinations are one of the best outfit colors to combine for a chic look. Color combination matters a lot in fashion as it determines the beauty and outfit gives. Among the colors to combine with the orange color is the blue color. Here in this collection, we will be discussing a complete guide on how to wear orange and blue outfits for women.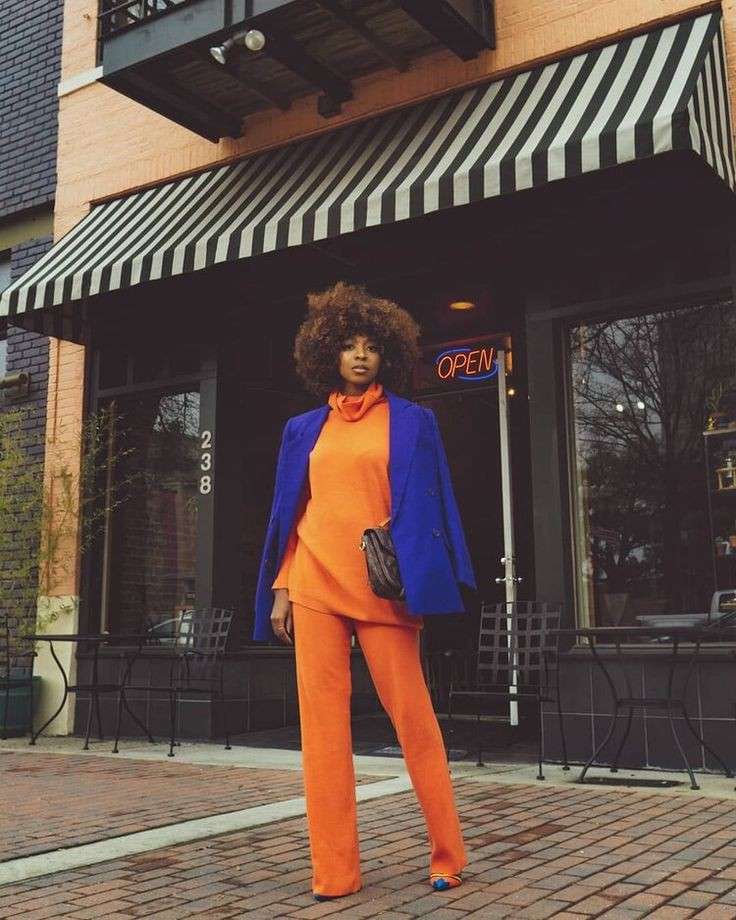 Read also: How To Wear Cargo Pants With Heels in 2022
For bright color lovers, the orange and blue combination is a nice combination to go for. This outfit color combination helps to give your outfit an enhanced look. However, the way the two colors are combined matters.
1. Orange and Blue Outfit for Women
The Blue and orange outfits can be worn in different ways. When making use of the two colors in your outfit, the blue color helps to tone down the brightness of the orange color to achieve a good combination. The orange color becomes the center of attraction while the blue color helps to make the outfit classy to wear. Some ladies wonder if the orange color can be worn with blue outfits. Yes, they can and the outfit combination makes your fashion more attractive.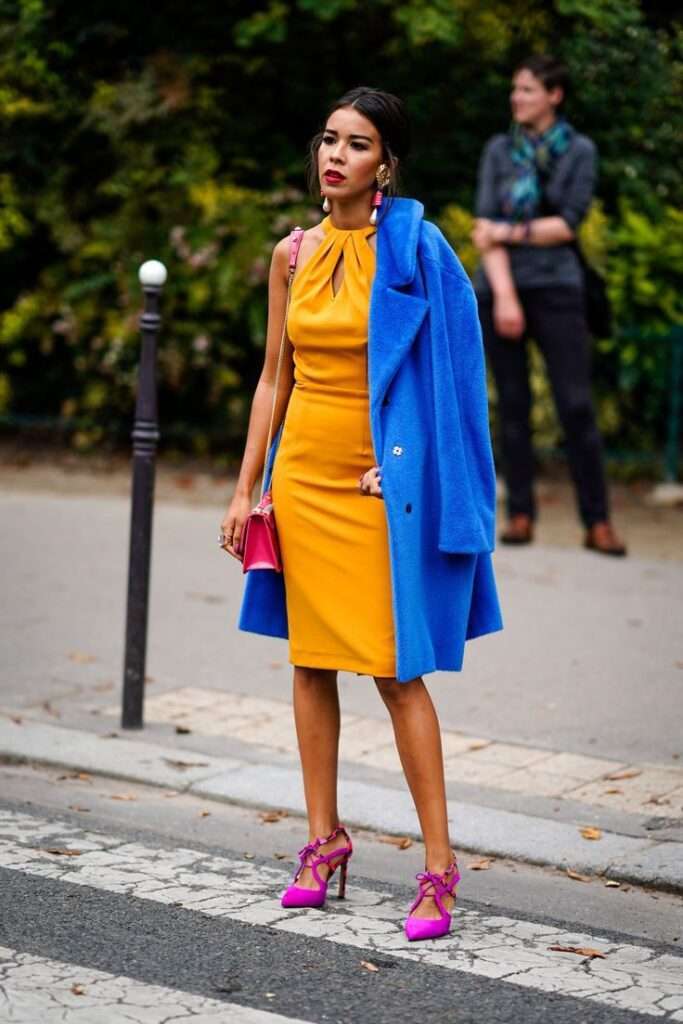 Unlike the color combination of red and black or black and white which looks aggressive and powerful, the orange and blue outfit combination can give you a more cheerful and refreshing feel.
Read also: How To Wear Joggers With Ankle Boots in 2022
One of the things to take note of when it comes to wearing an orange and blue outfit is the proportion of the colors. The Orange color can be used as a highlight or vice versa. If you feel your orange outfit is too plain, a blue jacket or blazer can be worn to spice it up or a blue handbag and shoe are paired together with your orange outfit.
How to wear orange and blue outfit for women also involves keeping the color combination simple and not complex. The orange color can serve as an accessory to a blue outfit or a blue color serves as an accessory to an orange outfit. The blue color can also take the place of a top on an orange skirt or trousers or vice versa. These two color combinations are not as complex as most people consider them to be. The right color proportion is all that matters.
2. How To Wear Orange and Blue Outfit for Women
There are different styles of orange and blue outfits you can wear as a woman. However below are some ways to combine the orange and blue outfit:
2.1. Blue sweater and jeans with orange handbag and heel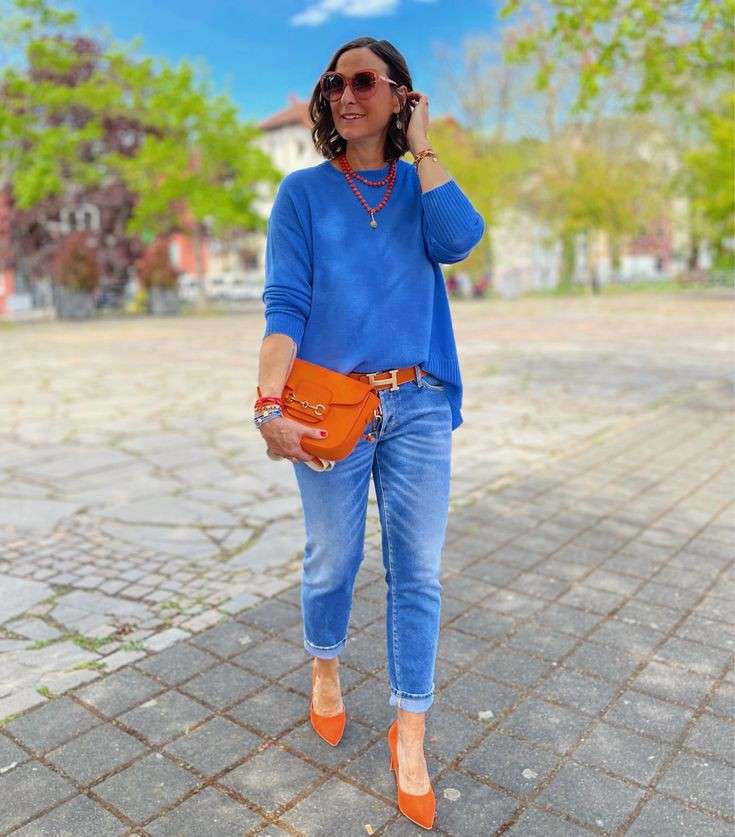 One of the ways to wear orange with blue is to wear a completely blue outfit and accessories with the outfit with an orange bag and shoes as shown in the picture above. This color combination is simple and gives off a classy feel.
Read also: How To Wear a Blazer With a Long Dress in 2022
2.2. Orange blazer and blue shirt on a black skirt with blue purse and orange heel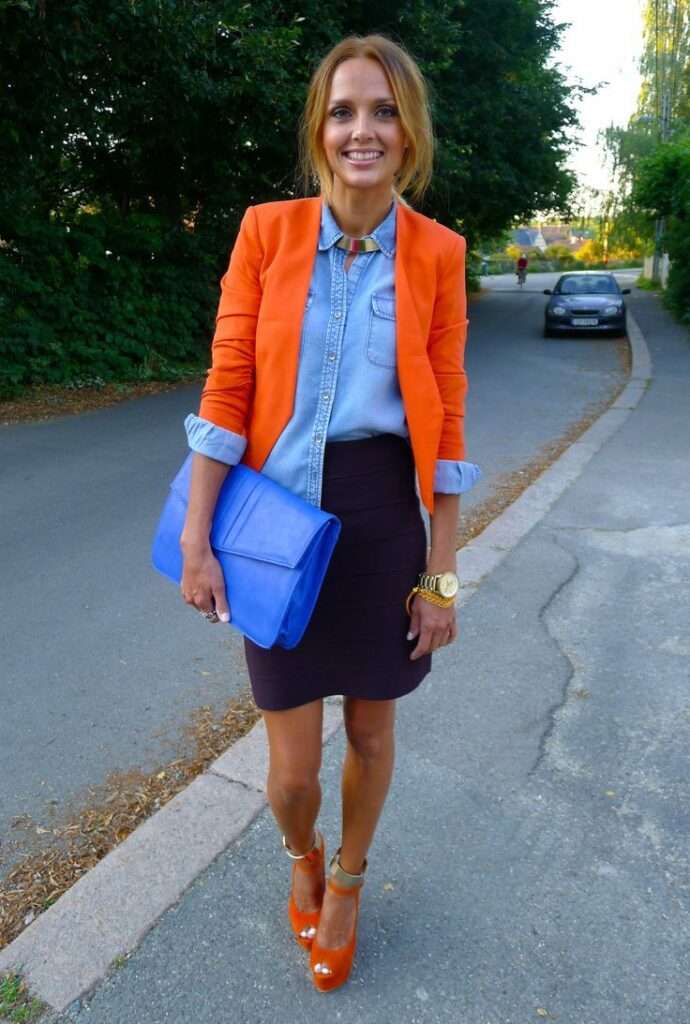 Color blocking is one of the most practiced fashions in vogue these days and it also allows you to rock different colors in different creative looks. Color blocking can be used for orange and blue outfit combinations as shown in the picture above. To spice up your blue shirt, an orange jacket or blazer can be worn for a classy feel.
2.3. Orange pants and blue shirt
Another way to wear an orange and blue outfit is to keep them in proportion as illustrated in the picture above. This mode of combination is simple and easy to wear.
2.4. Blue pants and sweater and orange jacket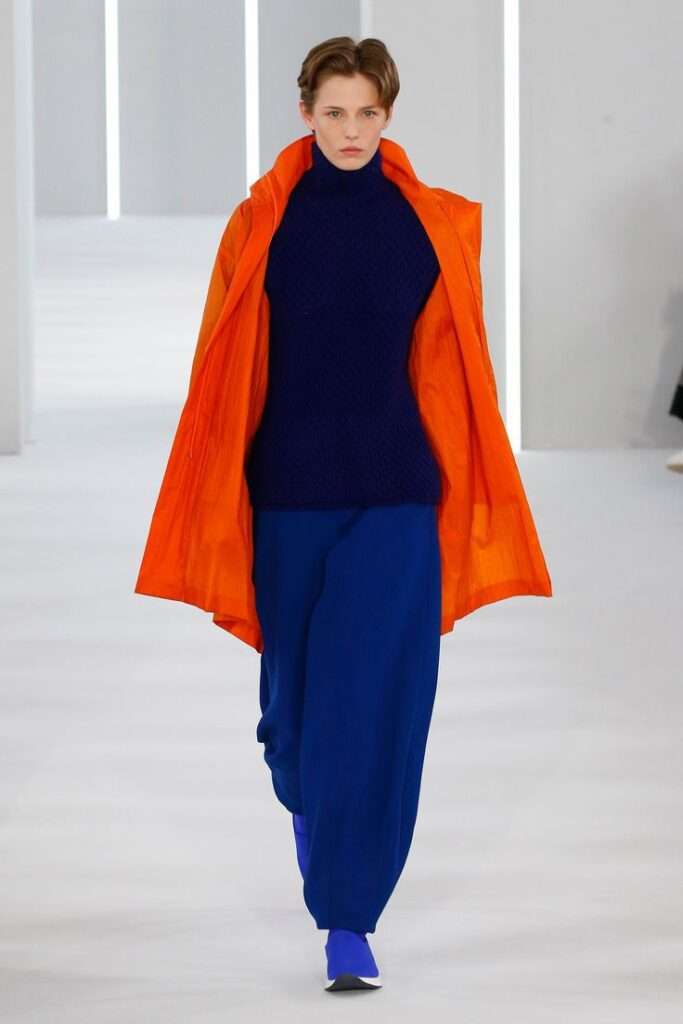 The best way to wear a blue and orange outfit is to wear one as monochrome and the other color on top of the monochrome.
2.5. Orange top and blue pant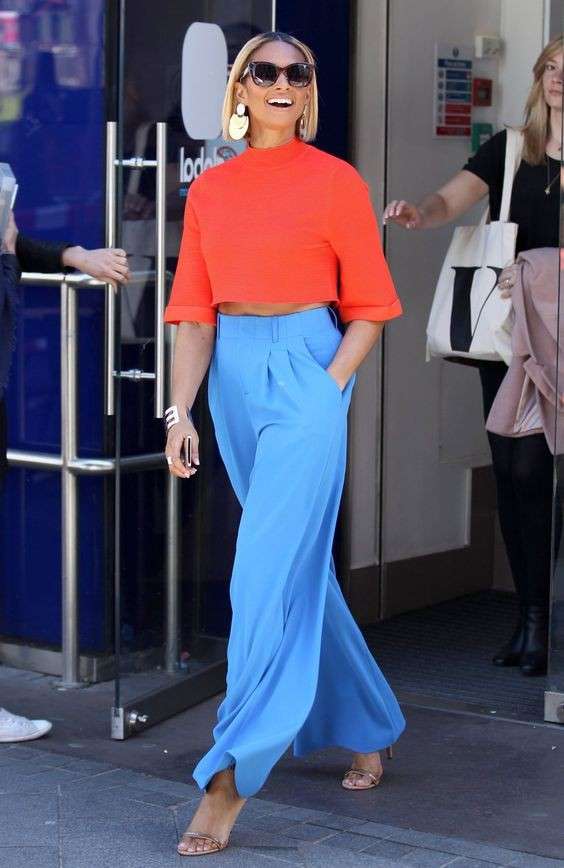 The orange and blue outfit can also be worn in the form of an orange top accompanied by a blue skirt for a corporate or casual outfit.
2.7. Orange sweater and pants with blue coat and bag and pink heel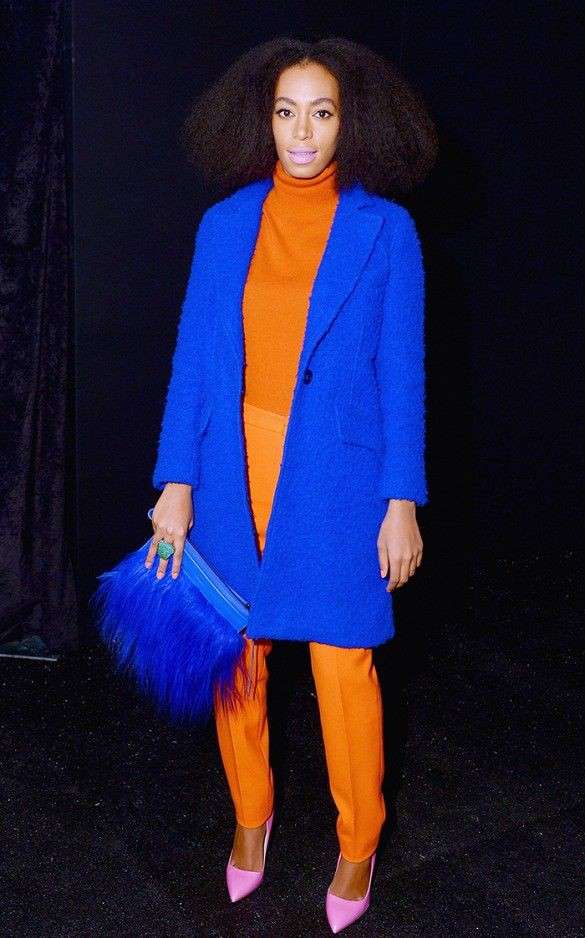 Wearing an all-orange outfit might be too bright for some ladies to wear. If you are one of those who aren't much of a bright color fan, you can tune the brightness down by wearing a blue or black jacket on your outfit.
2.8. Blue pants and orange shirt with a blue blazer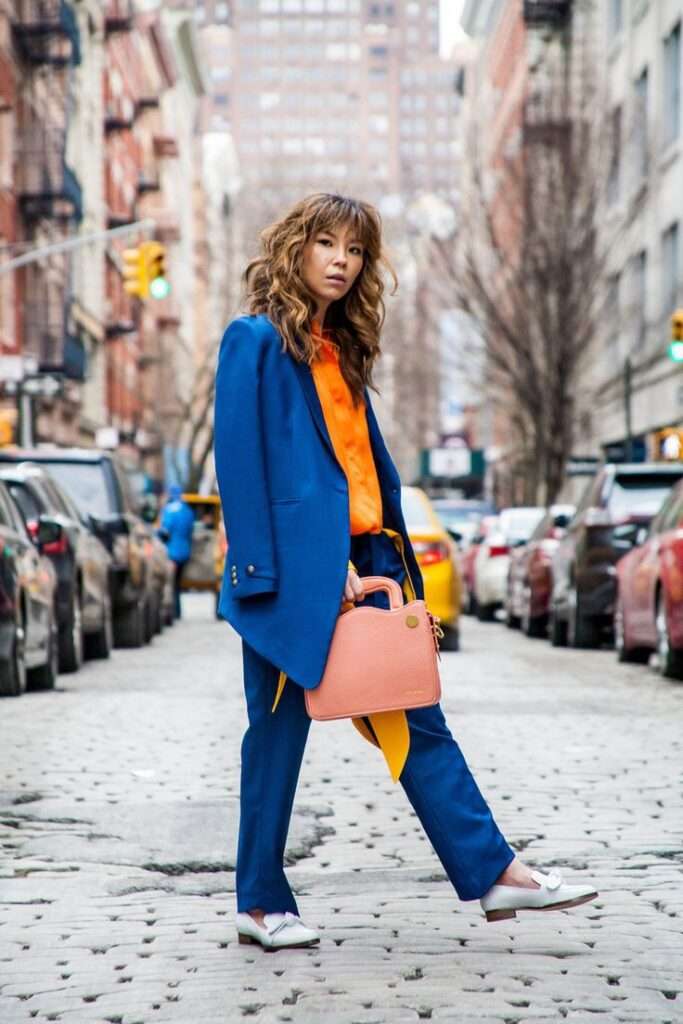 Instead of wearing a white shirt with your blue suit all the time, you can spice up your fashion by replacing your white shirt with an orange shirt. This makes you look more fashionable and classy compared to when you wear a white shirt. The orange shirt can be worn as an inner shirt for your jean.
2.9. Orange dress and blue jacket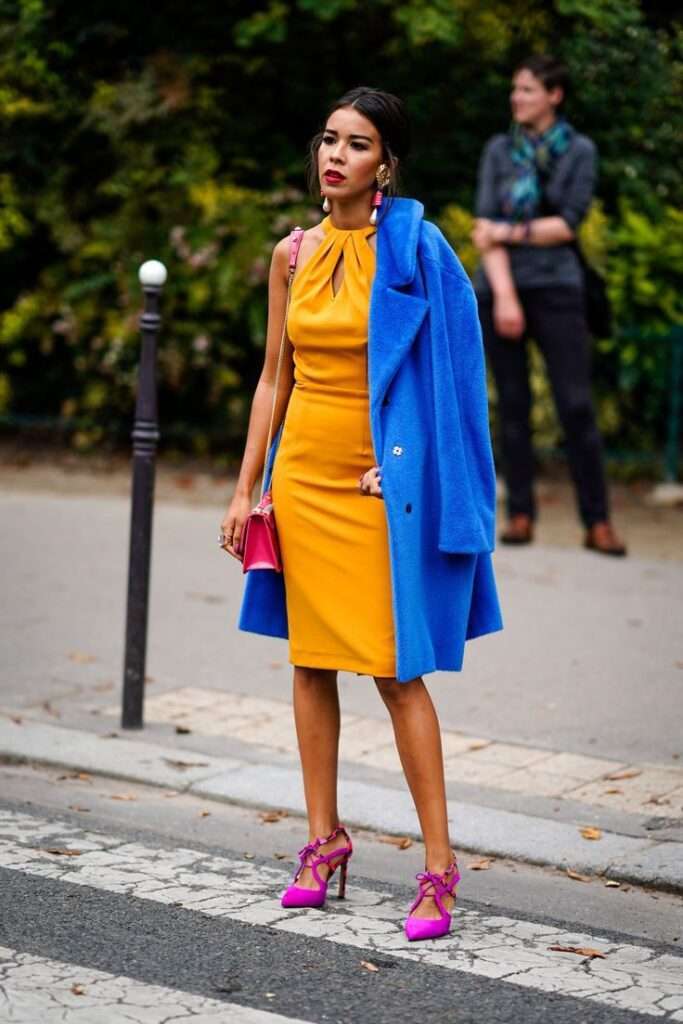 If you feel your orange dress is too bright and attention-seeking, cool color like blue can be worn as a jacket to neutralize the brightness. Pairing blue outfits with orange outfits make fashion interesting.
2.10. Blue skirt and orange jacket with orange shoes and bag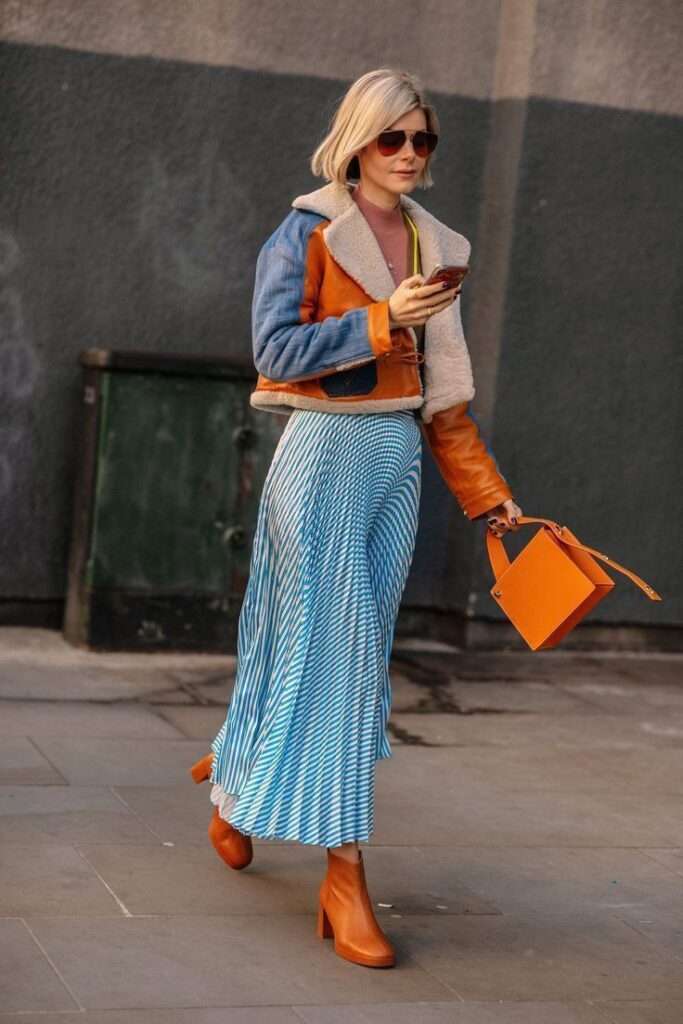 The orange and blue clothes can also be worn by pairing a blue skirt with an orange jacket and accessories. This combination makes the blue skirt a focus point.
Read also: How to Style a Slip Dress for Winter in 2022
3. Tips on How To Wear Orange and Blue Outfit for Women
3.1. The color is in equal proportion
For a proper blue and orange outfit combination, the color can be in equal proportion to give a good result. This is achieved when wearing a top and skirt or when wearing a top and trousers. The upper part consists of one color while another color is worn for the lower part
3.2. One color dominates the outfit
Another tip on wearing the orange and blue outfit is to make one color dominate the outfit. This tip involves wearing a blue gown and pairing it with orange accessories or vice versa.
3.3. Style it classy
When wearing the orange and blue color in am outfit, make sure it is classy and does not give an off look.
Conclusion
What determines how beautiful an outfit look is a color it is being paired with. Sometimes it is not about wearing expensive clothes but making sure your outfit color matches well. This article is focused on how to wear an orange and blue outfit as a woman.
Photo credit: Pinterest